Is Cancun Swine Flu Free?
According to latest reports, yes, there have been no cases of swine flu in Cancun nor elsewhere on the Yucatan peninsula. Nationwide 159 people died so far of neumonia related infections. Wether they all died of swine flu is unclear. Now what about Cancun and the Mayan Riviera? Is it safe to travel to Cancun? Given the circumstances I think that if you have the option to change your booking, I'd take it. Not that there would be a high risk, but the question is wether you will fully enjoy your vacation. If you don't have to decide right now, wait a few days and see how things develop. Yesterday on the news reports were that the number of cases went down.
In Cancun the influenza epidemic is affecting us in many ways, even though there are no casualties reported or even sick people. But the European media already call it the 'Mexican flu', which is not so good, image-wise.
As of today Yucatan's major tourist attraction, the maya ruins of Chichen Itza, is closed to the public until further notice. That goes for Tulum, Uxmal and all archaeological sites too. Carnival Cruises has decided to cancel the arrival of ships to Cozumel. Tourists are shortening their vacation on the Riviera Maya. Others with reservations in Cancun hotels decide to change their booking and go elsewhere instead. Like when Wilma hit us a few years ago, many people are suddenly out of work. Some businesses have already started to put their employees on leave (without pay). As a tour guide, there's not much to do for me either. But we survived hurricane Wilma so I guess we will not let this Mexican flu break our spirit!
The good news is: scientists have already traced the origins of the swine flu. Here it is: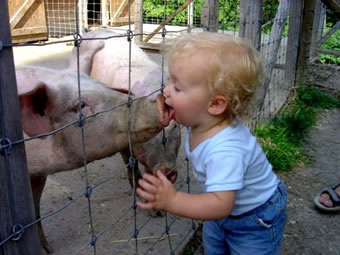 Stay positive!